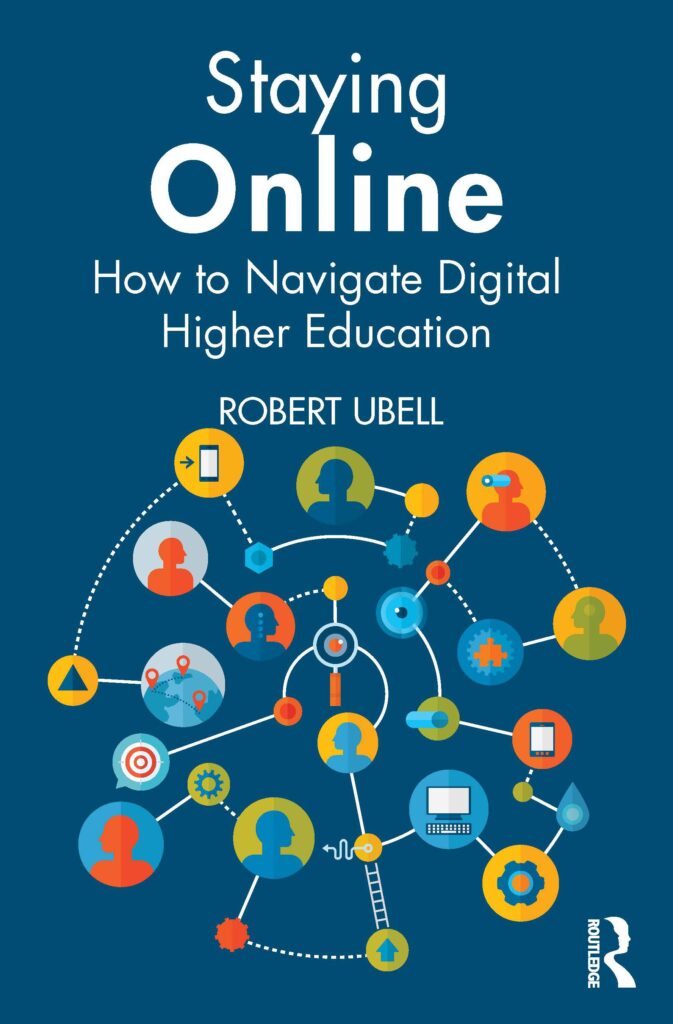 Staying Online
How to Navigate Digital Higher Education
By Robert Ubell
Publisher: Routledge (September 7, 2021)
In Staying Online, one of our most respected online learning leaders offers uncommon insights into how to reimagine digital higher education. As colleges and universities increasingly recognize that online learning is central to the future of post-secondary education, faculty and senior leaders must now grapple with how to assimilate, manage, and grow effective programs. Looking deeply into the dynamics of online learning today, Robert Ubell maps its potential to boost marginalized students, stabilize shifts in retention and tuition, and balance nonprofit and commercial services. This impressive collection spans the author's day-to-day experiences as a digital learning pioneer, presents pragmatic yet forward-thinking solutions on scaling-up and digital economics, and prepares managers, administrators, provosts, and other leaders to educate our unsettled college students as online platforms fully integrate into the mainstream.
---
Named No. 3 of the Best Distance Learning Books of All Time — Book Authority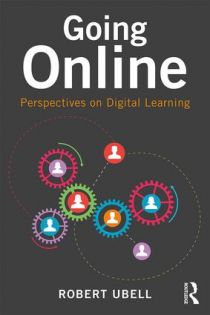 Going Online
Perspectives on Digital Learning
By Robert Ubell
Publisher: Routledge (December 8, 2016)
In Going Online, one of our most respected online learning leaders offers insights into virtual education—what it is, how it works, where it came from, and where it may be headed. Robert Ubell reaches back to the days when distance learning was practiced by mail in correspondence schools and then leads us on a tour behind the screen, touching on a wide array of topics along the way, including what it takes to teach online and the virtual student experience. You'll learn about:
how to build a sustainable online program;
how to create an active learning online course;
why so many faculty resist teaching online;
how virtual teamwork enhances digital instruction;
how to manage online course ownership;
how learning analytics improves online instruction.
Ubell says that it is not technology alone, but rather unconventional pedagogies, supported by technological innovations, that truly activate today's classrooms.  He argues that innovations introduced online—principally peer-to-peer and collaborative learning—offer significantly increased creative learning options across all age groups and educational sectors.  This impressive collection, drawn from Ubell's decades of experience as a digital education pioneer, presents a powerful case for embracing online learning for its transformational potential.
---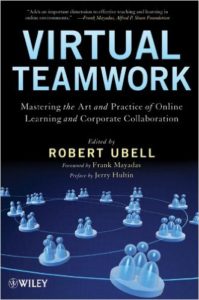 Virtual Teamwork: Mastering the Art and Practice of Online Learning and Corporate Collaboration Kindle Edition
By Robert Ubell (Editor), Frank Mayadas (Foreword), Jerry Hultin (Preface)
Publisher: Wiley (May 12, 2011)
"This book, by Robert Ubell and his excellent team of collaborators, adds an important dimension to effective teaching and learning in online environments. It addresses how interaction and collaboration online can be effectively harnessed in virtual teams. It is an important contribution to the larger field of Internet-based education."
—Frank Mayadas, Alfred P. Sloan Foundation
How to create and manage highly successful teams online
With the advent of the global economy and high-speed Internet, online collaboration is fast becoming the norm in education and industry. This book takes online collaboration to the next level, showing how you can bolster online learning and business performance with the innovative use of virtual teams.
Written by a team of experts headed by online learning pioneer Robert Ubell, Virtual Teamwork covers best practices for online instruction and team learning, reveals proven techniques for managing enterprise and global virtual teams, and helps you choose the best communication tools for the job.
Educators, project managers, and anyone involved in teaching online courses or creating online programs will find a wealth of tips and techniques for building and managing successful virtual teams, including guidance for:
Integrating team instruction in the virtual classroom
Using best techniques for team interaction across borders and time zones
Structuring cost-effective, competitive projects that work
Leveraging leadership, mentoring, and conflict management in virtual teams
Conducting testing, grading, and peer- and self-assessment online
Managing corporate, global, and engineering virtual teams
Choosing the right technologies for effective collaboration